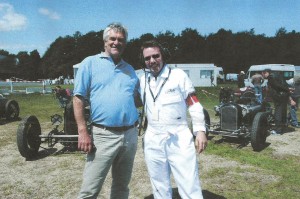 Hello Vincent –
we all had a really marvellous time, you and your team must be congratulated ! It is such a shame to come back to normal life. We are already looking forward to 2017.
TONY B – BROOKLANDS MUSEUM TEAM
Dear Jean Frederic.
I just wanted to say a huge thank you to you for a wonderful event this year, my friend William Irving and myself were driving the 1926 Senechal . The racing was thrilling, hospitality and organisation wonderful and has inspired us so much to do more in France with our old cars . We drove from Scotland and Cumbria in the north where it was cold and wet to spend the best 3 days of our lives at sunny Montlhery surrounded by some of the finest cars in the world.
Kind Regards.
Rob Armstrong N°241 – SENECHAL TS2 1924
Cher Freddie et Vincent,
Many, many thanks for organising the wonderful VRM earlier this month. I am sure I am just one among the hundreds of entrants who enjoyed the best-ever Meeting in this series.
You may be certain that we are all looking forward to May 2017 in the hope that there will be another chance to take part in this splendid event.
Cordialement,
Julian Fox N° 076 – Aston-Martin Le Mans 1933
Messieurs!
Merci beaucoup pour un merveilleux week-end; nous nous avons apprécié chaque instant et la variété des machines était magnifique. L'organisation était superbe, détendue et amicale, mais incroyablement efficace en même temps. Il y avait beaucoup de voitures et de motos aucun d'entre nous avaient jamais vu avant et de types pas vu au Royaume-Uni, nous sommes donc déjà à faire des plans à venir de nouveau dans deux ans si vous serez assez aimable pour nous loger!
Merci encore et beaucoup de félicitations pour un événement merveilleux.
John and Carolyn Venables-Llewelyn N°29 – BUGATTI Type 35GP 1925
Nick Rossi
Dear Freddie,
Congratulations and thank you for a wonderful weekend.
Best wishes
Martin Heckscher
Dear Freddie,
How marvelous ! A really fine time, had by all.
Thank you so much for all your efforts on our behalf. I can see why the Revival is only every two years. We had an uneventful journey back. But it was 24hrs before I felt I had caught up on sleep.
The car has now a few things to be fixed, but this is the nature of 'shaking down' after a build/rebuild. Great feeling, going on the track !
All the best to you, your family, Vincent et al,
David Haywood – N°190 LEYLAND THOMAS N°1 RECREATION 1922
Dear Freddie,
Dear Freddy – many thanks for a fabulous weekend – I wish I had learnt about your event earlier –
I hopeI will get an entry in 2017 when I will endeavour to keep all the engine oil in my car all of the time
Thanks and best wishes–
Alisdaire Lockhart – N°246 VAUXHALL Type A/D 1914-18
Dear Freddie,
Thank you for a most enjoyable weekend , I had an absolutely cracking time , and still didn't see everything, nor talk to everyone .  I wish my kids were interested in old cars and bikes as it is a wonderful venue and a good opportunity for the family to generate memories.
John Rice
Dear Freddie,
I am now back and wanted to drop you a short word to thank you very much for a wonderful event, and more specifically, to thank you for all your personal assistance to me and my colleagues. I do appreciate this greatly! It is an important part of the Vintage Revival atmosphere and ambience, and a large component of what makes the week-end such a delight. …Again, please accept my most sincere gratitude for a truly memorable week-end.
Warm wishes from the humid murk of Hong Kong
Michael Gluckman – AMILCAR C6
Hello Everyone
Here we are just back from a week in France for the Montlhery Vintage Revival and trying to pick up the thread, as they say! This was another terrific event thanks to all the great efforts from Freddie and the organising team. We had sunshine all weekend (too hot for racing leathers!)
There were a lot of Lancs & Lakes and NW group members at Monthléry as usual.
Despite the travelling, the Vintage Revival is a very friendly event and a wonderful spectacle and and I would encourage any of you who have not been before to give it serious consideration for your 2017 diary, assuming that it will be on again then.
Steve Hughes – G.O Morgan Three Wheeler Club